Project Planning & Engineering
The main key to our success is the capability to offer customers a complete tailor-made solution according to specific technical requirements, starting from the initial budgetary proposal to the final project plan designed to fit within the space available but also to fit the required budget, always keeping in mind the importance of looking after the product to be packaged.
Primary objective is in fact to care about "THE PRODUCT", making sure that its original characteristics are not altered throughout the bottling & packaging process.
Years of experience in the beverage and packaging industry as well as prompt feedback and enthusiasm have matured in Inpakt gaining a good reputation from customers worldwide, trusting us as a reliable supplier of turn-key plants, from project planning and management, manufacturing, installation, start up, commissioning and training.
Staff training and after sales service is also extremely important, and this is why we have built a network of appointed representatives in several countries worldwide, who are constantly trained in order to provide fast and effective on-site support.
Rinsing Filling and Capping
The virtually unlimited combinations allow the possibility to deliver to our customers a solution that will cater specifically for their bottling needs, enabling to process various types of containers and closures under one roof.
Perfect synchronism is obtained from one single machine drive having gear transmission or as an option through the use of brushless servo drives controlled electronically by the machine's PLC.
The Monoblock is available to suit the packaging of a wide range of products such as mineral water, carbonated soft drinks, wine, beer, edible oils, mixed alcoholic beverages, liqueurs, fruit juices, sauces etc, into traditional or modern packaging such as bottles made of Glass, Aluminium, PET, etc.
Our primary objective is in fact to care about "THE PRODUCT" making sure that its original characteristics are not altered through the filling and packaging process.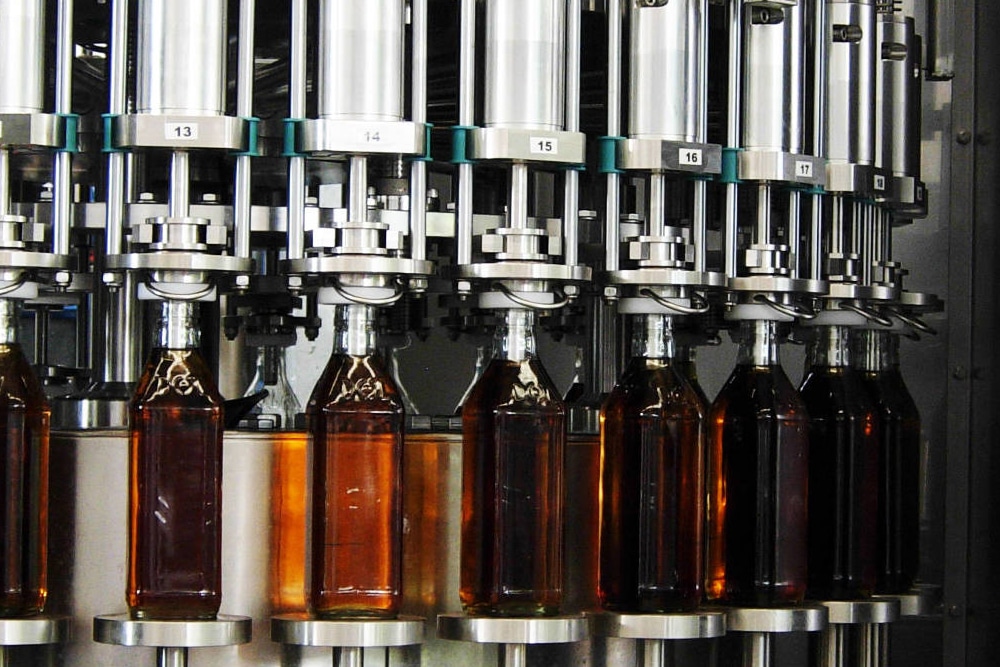 Still & Sparkling Wine Spirits & Liqueurs
The filling systems are typically low vacuum-gravity for flat wines & counter-pressure filling for both still and sparkling wines with different capping options, depending on the specific packaging requirements.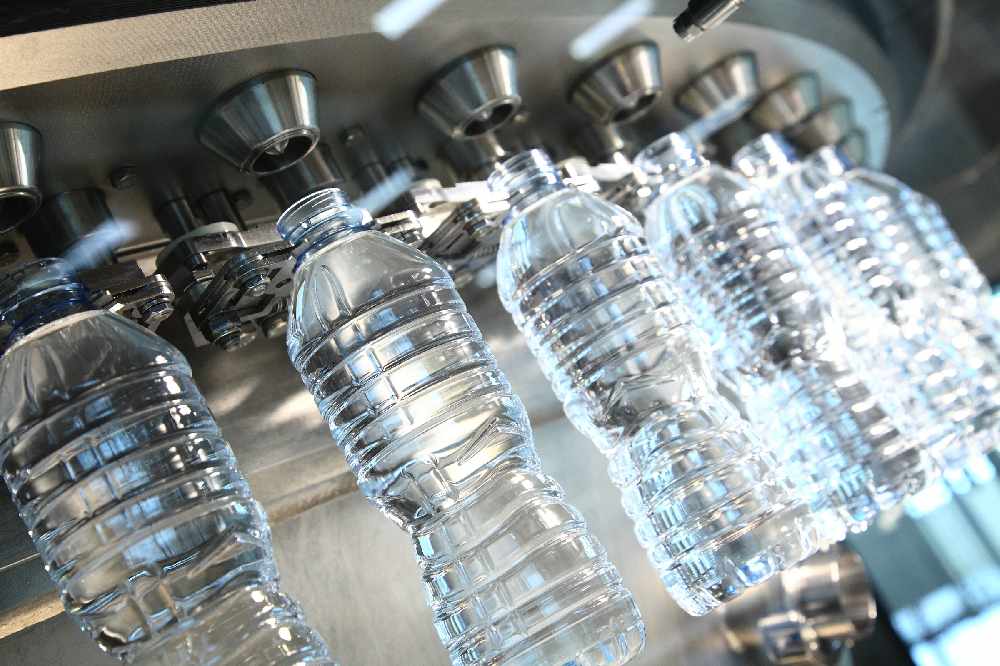 Carbonated & Still Mineral Water
Complete lines for glass and PET bottles, filling using counter-pressure, gravity or flowmeter system (non-contact filling), with various options available to ensure the maximum product safety and "Ultra Clean" environment...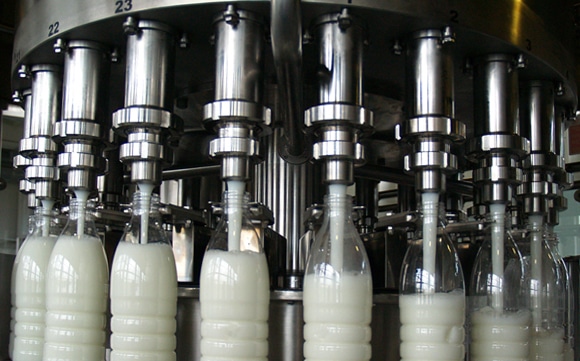 Dairy Products & Fresh Fruit Juices
Ultra clean technology for cold filling of fresh milk, yoghurt and fresh juices using electronic flow-meter or weight filling systems, which ensure the maximum product protection suitable for filling fresh products and those requiring Extended Shelf Life.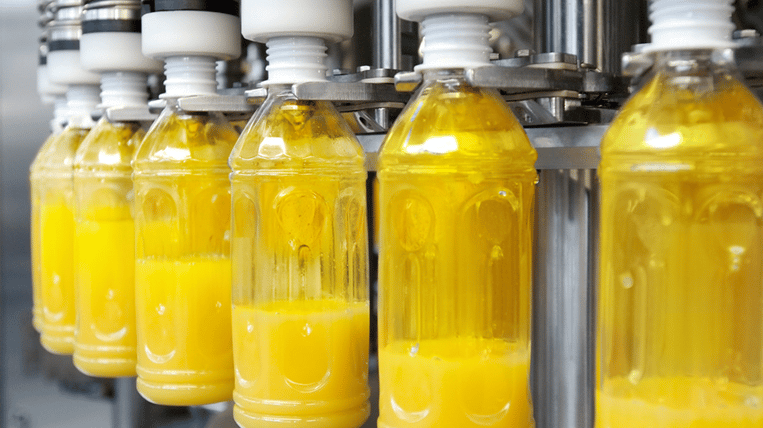 Hot Fill Sport Drinks & Teas
The hot fill system is typically used for various types of beverages such as isotonic sport drinks, and teas, utilizes product recycling between filler and flash pasteuriser or external recycling tank, and special design filling valves ...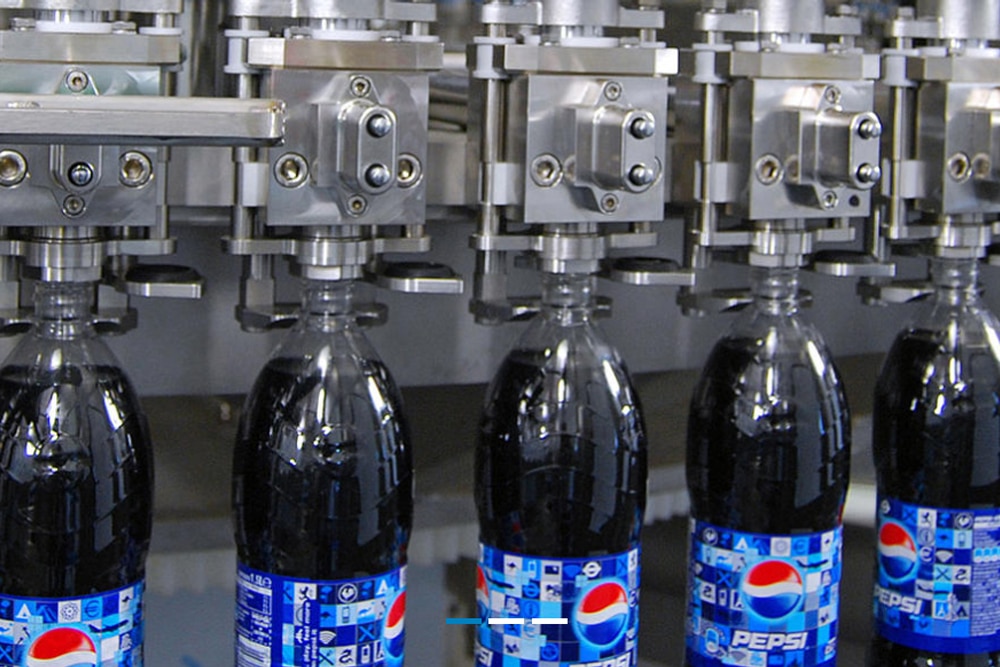 Carbonated Soft Drinks
Complete projects including syrup production, high precision flavour dosing & mixing systems for the production of soft drinks, alcoholic mix beverages, energy drinks and similar products packaged into PET, Glass & Cans.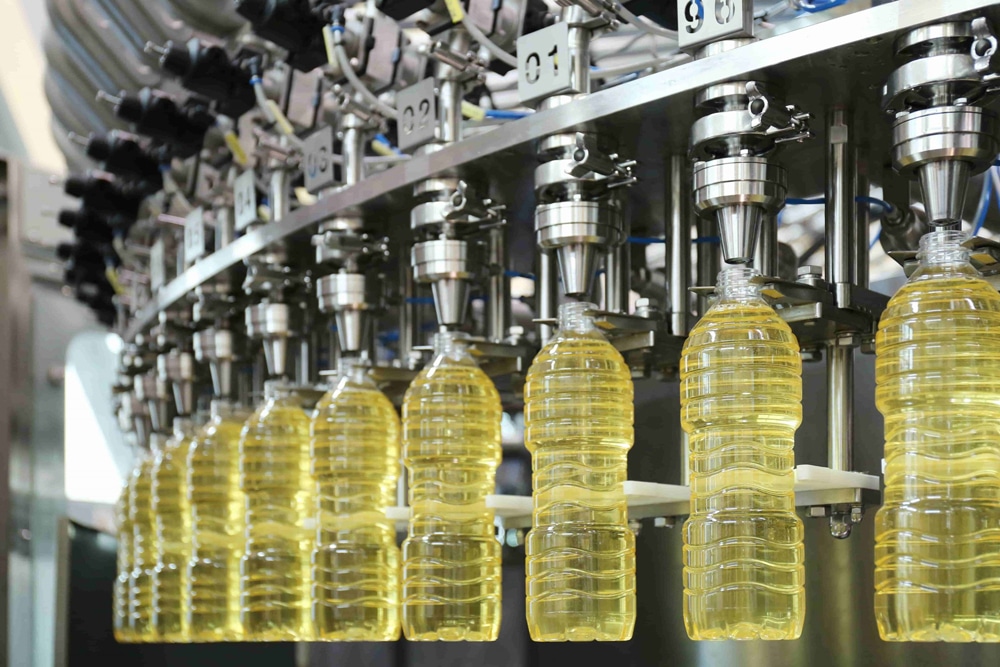 Edible Oils
A variety of filling systems for dense products such as edible oils are available for filling various types of glass and plastic containers, ranging from the high vacuum filling system to positive pressure filling...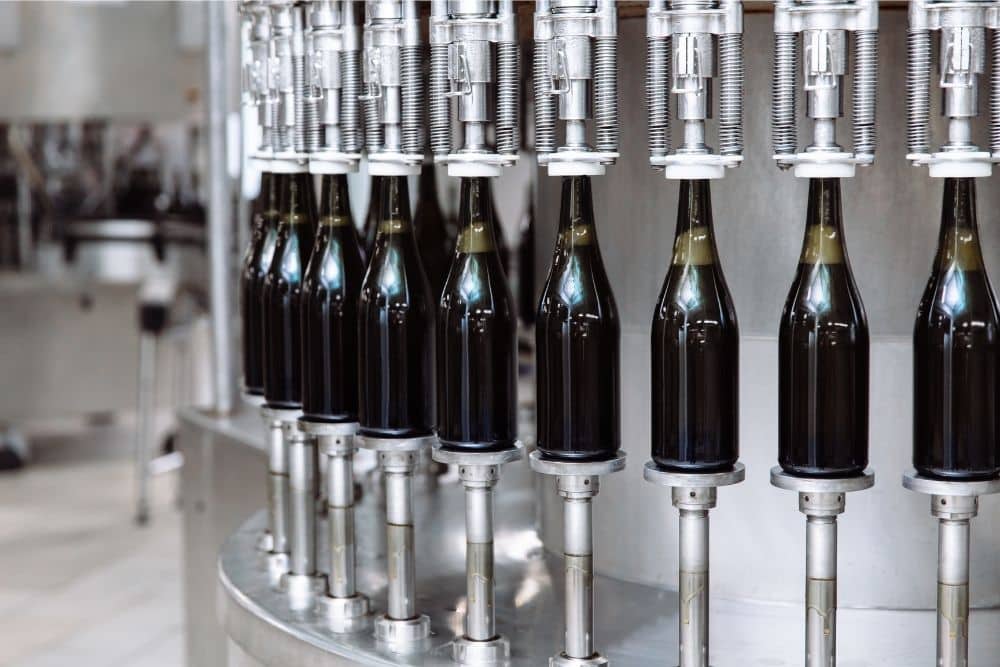 Beer Filling
Whilst keeping in mind the importance of caring about the product sensitivity to external contamination, Inpakt Beer filling machines make use of the traditional isobaric (counter-pressure)...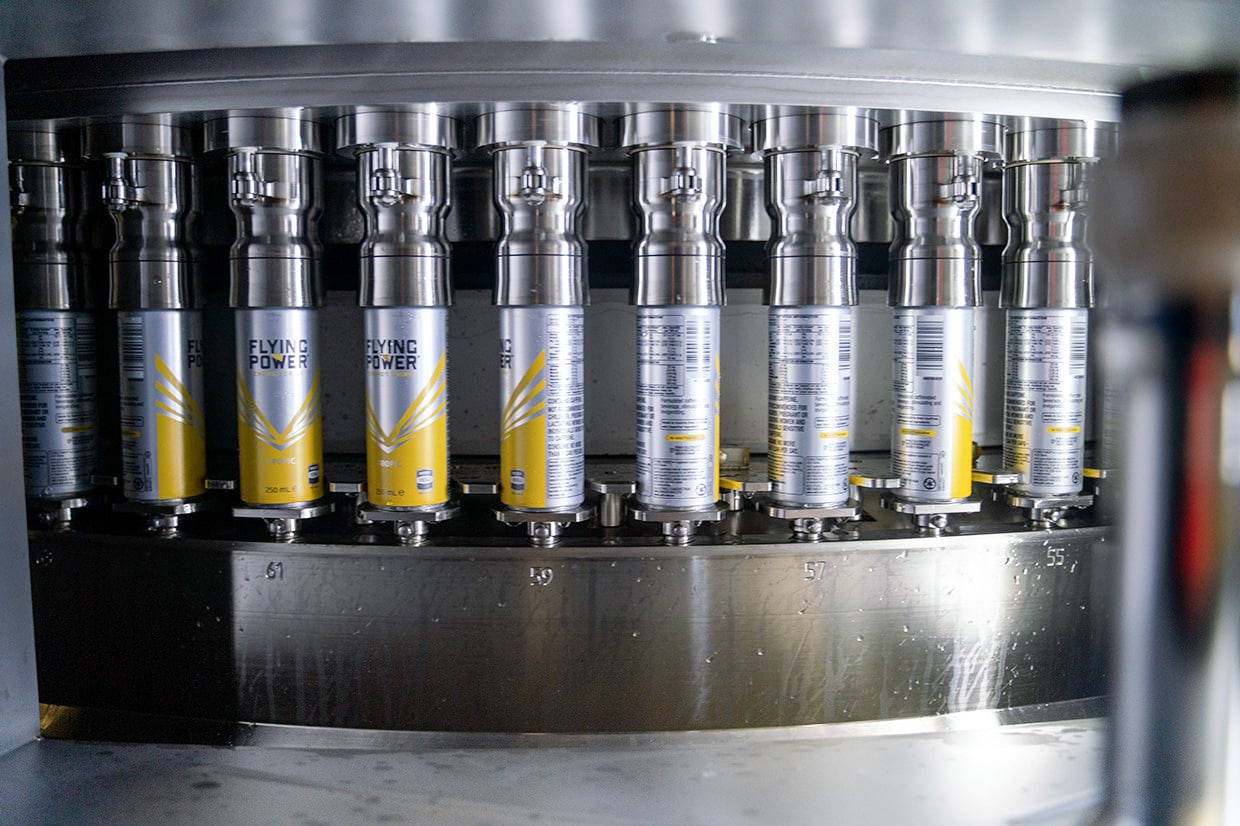 Beverage Canning
Can filling / seaming monoblock is based on counter-pressure filling technology, suitable for filling carbonated and still beverages in aluminium cans.
Conveying, Handling, Packaging and Automation
Today modern automatic plants need an optimization of the workflow, reducing labour and occupied floor space. Our "Layout Design Team" is specialised in finding the suitable solution which allows the production line within the required space, but still guaranteeing maximum efficiency, by reducing the line stops to the minimum. Line control automation is programmed according to each specific product and packaging configuration, providing coordinated interaction between each system component to ensure maximum efficiency even in case of packaging several deferent types of products.
Automation Control
Our production lines start from bottle blowing the empty container, line feeding right through to package conveyors at the end of the line, and more specifically:
Single and multilane conveyors
Elevators and lowerators, to manipulate bottles or packages on different levels
Loose Product Lane dividing units for low and high-speed lines
Packed product dividers
Handling & conveying of boxes, clusters and shrink- wrapped products
Dry and wet Lubrication systems
Cable ducts systems
Various types of buffer systems including bi-directional tables & dynamic accumulation systems ensuring the recovery of possible machine downtimes
Management and automation systems for bottling plants
Power distribution boards
All above features allow for safe and gentle conveyance of the products throughout the complete bottling and packaging process.
De-Palletising and Palletising systems
• Low level and high-level depalletising systems using both sweep off or pick & place technology
• Unscrambling systems for plastic containers
• Low level or high level layer palletisers with single or multiple infeed conveyors
• Semi automatic Cartesian robot palletising systems with pallet on the ground for small production capacities
• Anthropomorphic Robot palletising systems offering the maximum flexibility, having up to six movement axes and therefore allowing for palletising individual or multiple boxes, up to handling the complete layer.
Secondary packaging
An important process common to most products in the food and beverage industries is packing containers into clusters, crates, shrink wrapped bundles or cartons. Specific packing machines are supplied to suit the numerous shapes and sizes of products to be packed as well as the different packaging configurations.
Some examples
• Multiple head Pick & Place systems with carton forming and sealing with tape or hot melt glue
• Cluster packaging machines
• Shrink wrap packaging machines with or without tray (single or twin stack)
• Wrap around packers
• Combination machines for maximum flexibility (pad + film-film only – tray only, tray + film – wrap-around carton)
Counter pressure filling systems suitable for filling all kinds of carbonated and still products such as carbonated water, soft drinks, beer, etc.
This is featured by various different types of filling valve designs, from the traditional mechanical counter-pressure, to the most sophisticated electro-pneumatic system.
The traditional mechanical counter-pressure valve enables to carry out several phases such as pressurization, CO2 injection, multiple pre-evacuation, levelling and snifting.
The usage of the electro-pneumatic valve allow to carry out the same functions, but it is completely controlled and programmable from the operator panel. This allows the most up-to date technology and flexibility which is necessary to obtain high quality results and reduced risk of contamination.
Low vacuum-gravity filling systems are recommended for still, non-dense products such as for example still water, wine, alcoholic beverages (vodka, whiskey, brandy, etc), chemical products and generically any kind of flat non viscous liquids.
Various models of filling valves are available within this category, specifically designed to cater for the filling level requirements, bottle shape, neck shape and product.
Several optional features are available such as the "millimetric adjustment of the filling level" controlled directly from the user interface panel, air return outside the filling tank (to avoid the air from the bottles contaminating the product in the filler bowl), centralized level regulation and more.
Electronic flow meter filling system.
These systems assure maximum dosing precision and do not require any maintenance.
Thanks to the extremely small number of functional elements, the filling machine can be sanitized very easily and the Electronic Volumetric filling allows optimized filling under a microbiological profile.
The system works without pressure in the bottle and with a light positive pressure inside the filler bowl, allowing to process both high density and liquid products in containers of different materials.
The filling is controlled by the PLC that gives the go-ahead to start the filling when the sensor detects the presence of the bottles.
The electronic dosing devices with mass or magnetic flow meters show that the preset filling volume has been reached and control the closing of the valve, allowing a dosing precision of 0,2%.
As a result we obtain a precise volumetric filling and a microbiological safety.
Volumetric (or piston) filling system guarantees that the container is filled with an exact quantity of product, having a maximum tolerance of +/- 1,5 cc using 1 litre cylinders.
This result is obtained regardless of the product's thickness and of the differences in actual capacity between containers of the same type and size.
Therefore piston filling is the correct choice for applications where accuracy of actual volume contained in the bottles is important, or in case of filling dense products into plastic containers.
The filling system consists in two steps: during suction, the product passes from the tank to the metering chamber through a three-way valve which measures the product thanks to its piston-based operating principle, according to a preset quantity.
To empty the chamber, the three-way valves activates a pneumatic valve controlling the piston: the product is pushed out of the cylinder into the container.
It is possible to adjust the filling speed in the top portion of the container, where the neck must be filled slowly to prevent foaming or spillage.
Net weight filling system is used for various types of still products including thick and viscous liquids, such as vegetable oils, detergents, liquid soaps, etc into containers of any kind including soft plastic material such as PET or HDPE bottles.
The advantage of this system is that is very gentle on the product and allows extremely precise net weight measurement, regardless of the empty container weight variation.
High Vacuum filling is used for thick and viscous liquids, such as vegetable oils, syrups, sauces, etc into containers which are resistant to vacuum, such as glass bottles.
As opposed to the gravity or low vacuum system, the filling takes place by creating a vacuum inside the bottle through a separate channel, allowing the product to flow from the filling tank more easily.
At the end of the filling process, once the desired level has been reached, any excess product is collected into a dedicated reservoir on the ground and sent back to the main tank or managed according to the customer's requirement.
The intensity of the vacuum is adjustable to suit the product density and the production speed.
Positive Pressure filling system is used for thick and viscous liquids, such as vegetable oils, syrups, sauces, etc into containers of any kind including soft plastic material such as PET bottles.
As opposed to the gravity or low vacuum system, the filling takes place by creating a positive pressure inside the filler bowl, allowing the product to flow from the filling tank to the containers more easily.
Hot filling system suitable for juices and isotonic beverages.
The principle of operation is similar to the gravity-low vacuum system, however the machine and its filling valves are designed to allow product recirculation in the tank and in the filling valves themselves in order to keep the constant filling temperature even in the eventuality of a machine stop.
With the hot fill technology it is possible to fill up to 90°C, guaranteeing a constant filling temperature and filling level accuracy.